October 2016
TTOS Southern Pacific Division Review of the Lionel 6-15094 Sleepy Hollow Halloween Reefer
By: Jeff Meyer
October is always fun for my family and for my wife and I running Halloween themed trains always adds to the fun. Whether zombies, monsters, bats, ghouls, ghosts, goblins, and more there is always room for an additional to the Halloween consists. Today we are taking a look at the Lionel 6-15094 Sleepy Hollow Halloween Reefer car. The graphics on the side of this car represent the Sleepy Hollow Cider Company  and it is listed as "The Horseman's Choice since 1813".  The car number is 1031. Coincidence here? Probably not.
Reefer cars are always good fun and Lionel has done an excellent job on the 6-15094 Sleepy Hollow Halloween Reefer car. The trucks are sprung die cast trucks that have a great look and feel to them along with running well on the tracks. The feel of the car is one of quality and feels very substantial. I love the feel of the cast in details and wood grain texture. The graphics are excellent and very sharp and give a good creepy feel to this reefer. The sliding doors open on both sides so you can haul some pumpkins, candy, or even a couple of zombies. The car goes well in any consist and is good to run at other times of the year. I like running this car with a Lionel Postwar steamer or switcher just to add to the haunted look but it goes well in other trains also.
This fun little gem of a reefer car is available at your local Lionel dealer for $59.99 and is a great way to have a fun, creepy, great time in your railroad. Just do not go wandering into any woods to follow that horseman, right? Right?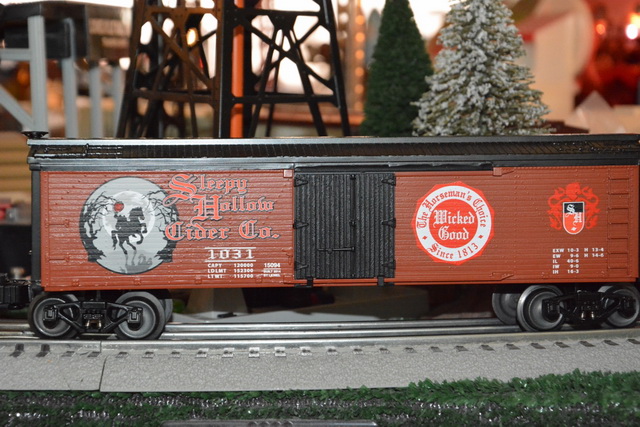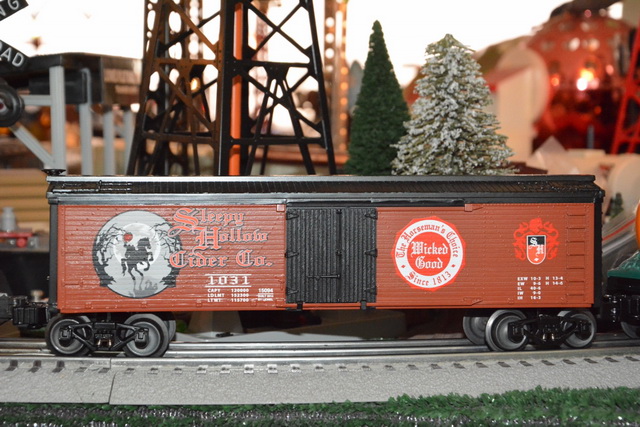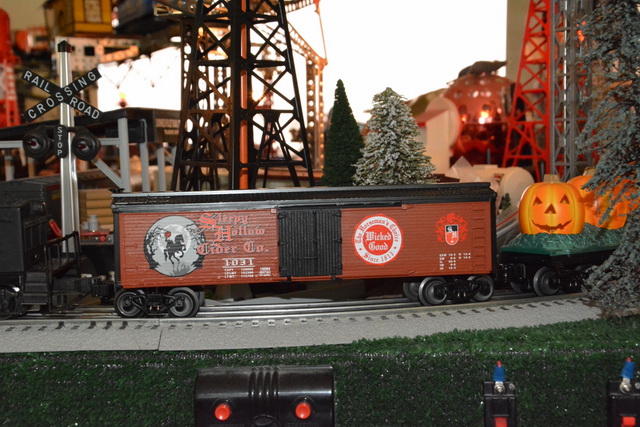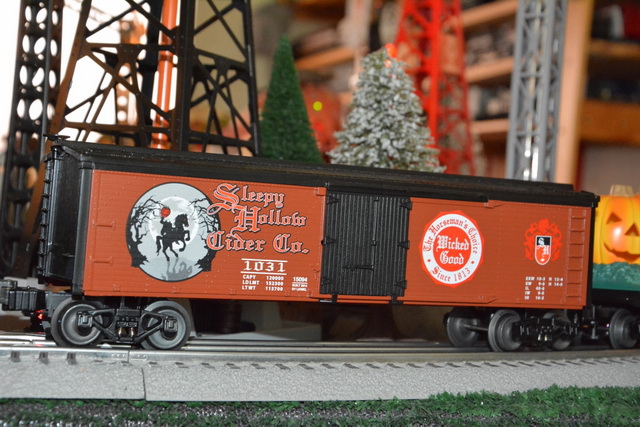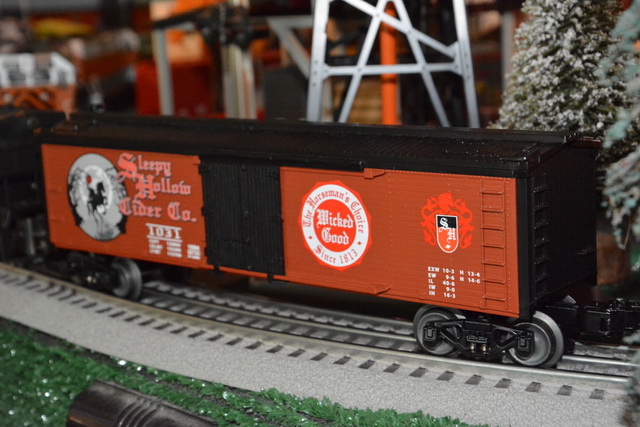 ---
September 2016
TTOS Southern Pacific Division Review of the Lionel 6-82036 Luxury Diner
By: Jeff Meyer
Before the world of fast food like McDonalds, Burger King, and now even fast coffee like Starbucks there were the local diners. The local diner was something of the town hang out for some people while others it was a place where home cooking was ready to be had. While some parts of the United States still have diners in operation, many of these little reminders of time past have disappeared.
Any railroad, especially during the steam era and early diesel era, usually had a diner in the local town where the railroad went through, either a small town or a big city. Diners represented a taste of home for many weary traveler and worker alike. Lionel has modeled a new 6-82036 Luxury Diner. The pictures on the catalog do not do this little gem justice. When I received this I had decided to use this on my All Aboard Fastracker squares portable layout since pre-assembled buildings make set up a lot easier.
I was ready for a nice building but not what I saw….this little gem is amazing! The packaging is easy to remove and use again for storage and transport. When I removed the 6-82036 Luxury Diner from the box the fit and finish was amazing! The chromed section of the diner felt solid and almost like the whole diner was made of metal. The red roof is finished nicely and the fit and finish is really good. Inside is detailed like very few items are these days with everything including people ordering and eating a waitress, and a cook with all of the details on the tables and counters. The lights are just perfect and it does not take one too long to imagine themselves there ordering a hamburger steak with potatoes and gravy.
This diner should be placed on any layout for all to see. I would suggest you be prepared for a lot of comments and questions from those who see it. I lost count of the number of people that wanted to buy it right off of my layout at the past two shows. The suggested retail on this little taste of the past is $79.99 and the 6-82036 Luxury Diner is available now at your local dealer. Better hurry of the special might be sold out!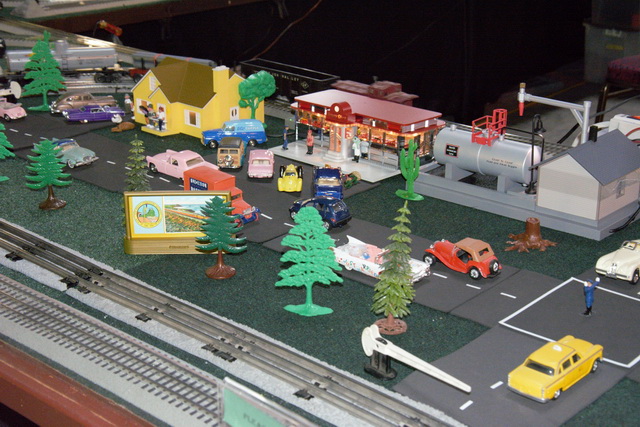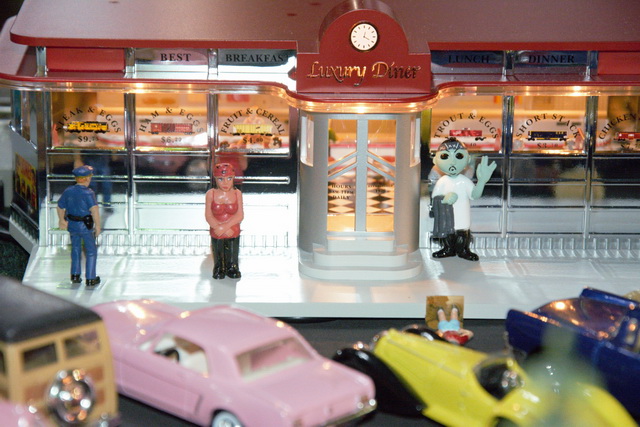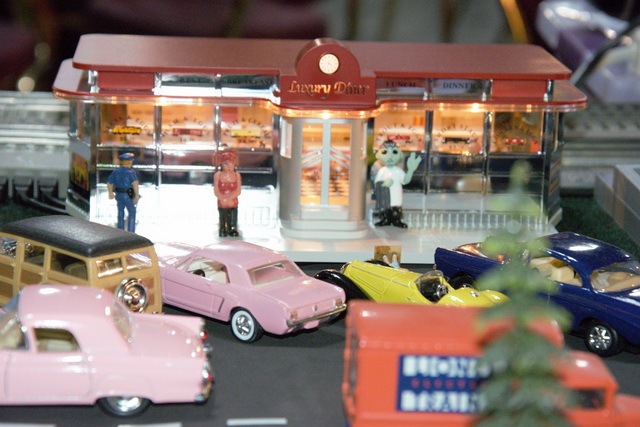 ---
---
August 2016
TTOS Southern Pacific Division Review of the Lionel 6-82092 MOW Tie Work Car
By: Jeff Meyer
Maintaining the railroads is a job we as consumers as well as the railroads themselves depend on to keep everything running and on time. When I first got into model railroading I was like anyone else and wanted to build the layout and then run the trains. As time went on I became interested in different types on consists the railroads built. After studying business in college I gained a new respect for how difficult running a railroad is since the railroads must cover all of their expenses on their own.
I became interested in running MOW, or known as maintenance of way consists. Railroads use a variety of recycled and re-purposed equipment to create specialized equipment to help maintain their right of way. Since costs can escalate quickly anything a railroad can re-purpose or make from existing assets or equipment cuts down on these costs. What does that mean for the person running a model railroad? Well, frankly anything goes! I have read many articles and studied pictures of MOW consists and work trains to discover you can do anything you want with an MOW consist.
Lionel has produced their 6-82092 MOW Tie Work Car that goes great in any maintenance of way consist, where it is a large consist or a small work unit. The MOW Tie Work Car represents what was likely a fixture of many railroads several decades ago. Many Class 1 railroads use more automated equipment now so this Work Car really will go well with anything from the past 60 years or so. Lionel makes this car in several road names to suit the enthusiast so you should find a road name you can use.
I like the MOW road name since it goes well with a variety of the roads that I run on my layout whether it is Pennsylvania, Western Pacific, Union Pacific, and so on. The detail of the MOW Tie Work Car is well executed and has a good quality feel. I like the yellow MOW paint scheme and this works well with many railroad names. There is a light inside the workhouse of what is essentially a re-purposed flat car just like any railroad would do. The car also includes an amount of ties that do look almost perfect in size to the Fastrack ties. There is an electrical connector that is used to jumper the center rail pickup to the Lionel Command Tie-jector to help prevent power issues when going through switches. The MOW Tie Work Car looks great in any consist and since there are operating knuckle couplers on both ends it can be anywhere in your maintenance consist. These are currently available at your Lionel retailer with a suggested price of $74.99.
Next month we will review the MOW TMCC Tie-jector power unit and put these two together. I promise you, the reader will not be disappointed!
---
August 2016
TTOS Southern Pacific Division Ambassador Club August video review and bonus review. This month features a Lionel Bungalow Plug n play house and a bonus of the Lionel Command Control Tie-Jector Enjoy!
---
July 2016
---
---