Operator of the Month: May 2010
Jeff Meyer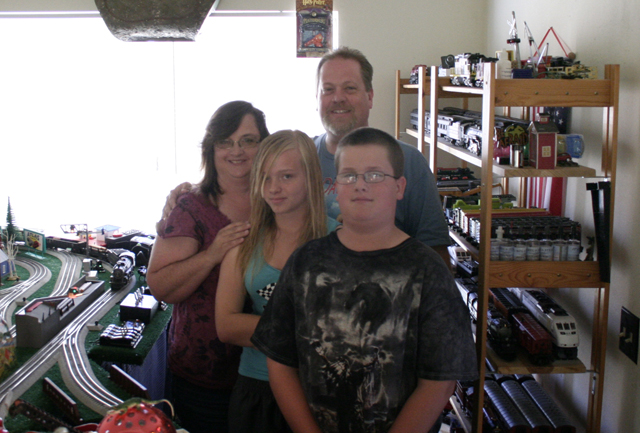 Operator of the Month: Jeff Meyer
By: Ryan Selvius
     Jeff is one of the newest members in TTOS but toy trains are nothing new to him. He grew up playing with a Lionel 0-27 freight set pulled by a 2055 Hudson. Anyone who has met Jeff would say "You're not old enough to have had a 2055 as a kid." Well, the train was actually a hand-me-down from a friend in the early 70s. Young Jeff added a milk car and a few other postwar cars and accessories to his train and built a modest layout. He had a difficult time finding trains and parts because everyone told him that Lionel went out of business. Jeff also ventured into N scale and built a layout but the Lionel trains always had so much more appeal. He liked the buzzing growling noise, smoke, whistle, and size of his Lionel's. He also liked the fact that he could take the trains apart and tinker with them (he still does actually). During his teens, he moved on to other things in life and the trains got boxed up and put away. On a sad note, his home was broken into about 20 years ago and someone stole his childhood trains.
     Lionel trains re-emerged in his life about five years ago because of his son Jonathan. Jeff and his wife Denyse had gotten him all the Thomas wooden trains when he was younger and Jonathan decided that it was time for an electric train. Jeff found a hobby shop in Temecula and was pleasantly surprised to discover that Lionel was in fact still in business. The family went home with a new Pennsylvania Flyer train set. The train provided many hours of father-son bonding and Jeff's passion for Lionel trains was reignited. He began acquiring more trains and track for him and Jonathan to play with. He also built a small layout with 0-27 track. Jeff really liked the Fastrack that came with the train sets because it didn't tear up his hands like the 0-27 track did so he began to buy more of it. He and Jonathan would build "Carpet Central" floor layouts in the living room and play trains on the floor instead of on the layout. Having out grown the small 0-27 layout, Jeff was wanting something bigger. He had been eyeing the dining room and much to his delight, Denyse said OK.
     Jeff and Jonathan's new railroad empire would utilize Fastrack and feature several loops of track interconnected by a plethora of switches and crossovers. The result can lead to some pretty complicated operating sessions. Jeff had been debating whether he wanted the layout to have a hi-rail or toy like look to it. The kid in him won so he put down green carpet, many operating accessories, and tin lithographed tunnels. The layout has a lot of action on it without having that cluttered look that some smaller layouts develop. TMCC was another necessary feature on the new layout. Jeff has really taken to command control and loves the new locomotives with TMCC and Railsounds. It has added a new dimension to playing trains for him and Jonathan. One of their favorite activities is to have missile wars with the TMCC Army mobile launcher and exploding boxcars. Jeff's favorite trains include the K-line Big Boy, a K-line UP 4-6-2 with TMCC and Railsounds, the Polar Express, and a Lionel 2055 that Denyse recently bought to replace his childhood train. Jonathan's favorite train is that K-line 4-6-2 and his favorite accessory is the nuclear reactor.
     The toy trains are a family activity for the Meyers. Denyse is very supportive of Jeff's hobbies and has taken an active interest in the trains. Even their daughter Melanie helps with the layout. Jonathan still likes to play trains with dad even though he is in his pre-teens now and trains aren't exactly the coolest thing. Jeff is a very light-hearted, fun loving person that enjoys toy trains for what they are: toys! If you like to play trains, say hi to the Meyers at the next meet.