Operator of the Month: May 2011
John Bowman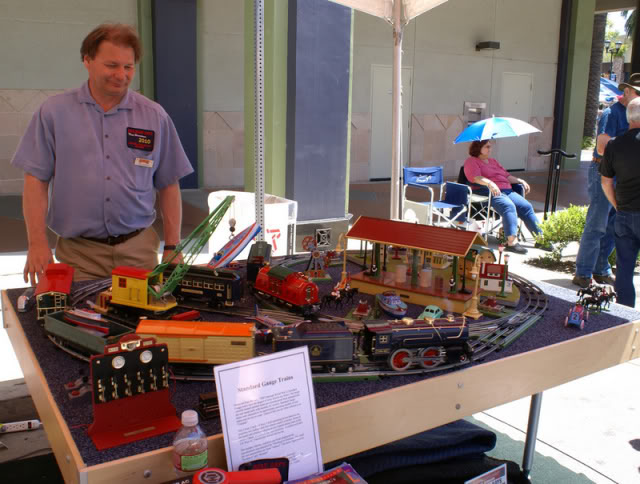 John is a real ambassador to the wonderful world of model railroading. He enjoys operating trains but more importantly, he loves to share his passion for trains with anyone and everyone. John has never had a permanent train layout at home. Instead he has built seven different portable layouts since the 1980's ranging from Z scale to standard gauge. In addition to these portable layouts that have been to numerous events, John has also been involved in several seasonal train layout projects used to promote the hobby including the displays built at the Richard Nixon Presidential Library.
            John started out at age 4 with a simple American Flyer S gauge set. He never had a table to set the train up on so he had to be content with floor layouts. As he grew older, his interest in his Flyer set faded as other priorities such as school, dirt bikes, and a band took precedence. John's interest in trains was rekindled during his mid 20s when the American Freedom Train came to town. This spawned a general interest in railroading which remained on the backburner for a few years while he finished school and started a career working for Fluke in 1977. In 1981, John bought an LGB set and got heavily involved in the world of G gauge. He joined the LA Garden Railroad Society shortly after and put his electronics skills to work helping members with layout wiring and automated train operation. He also started doing a yearly computer controlled floor railroad that took over an entire room and he would invite friends over for a social get-together to run the trains.
            During the 1980s, John also got interested in Z scale and O gauge. He started buying European trains when he would travel overseas for his job. He built a couple of small Z scale layouts and eventually a portable 5 x 9 foot O gauge layout. John became interested in Marx trains through TTOS meets around 2002 and has built a Marx layout and another small O-27 layout. It would seem that he has a very broad collecting interest but John does not consider himself a collector… period. Instead, he buys based on aesthetics, interest, and color. John likes the different gauges and manufacturers for different reasons. He enjoys standard gauge for its appearance, Marx for operation, O gauge for variety, and the Z scale he says is the most challenging.
            The most interesting part of John's story is not the trains he operates but his relationship with model railroading. John likes to refer to himself as an "advocate of the Model Train Community." He has been promoting the hobby since some time in the 90s. He has taken his various portable layouts to train related events, schools, and club events. In 1994, he was asked to build a small 5 x 8 foot O gauge layout to be displayed at the Orange County Fair. Oddly enough, he was contacted again last year to build another layout, this time an 8 x 8 foot one, for the OC Fair. For this project, he formed a group called Team Train OC (visit teamtrainoc.com). In 2006, John was invited to work on the layout being built at the Nixon Library by the TCA Western Division. He was recruited to design a safe and efficient wiring network. For the layout in 2009, he used Programming Logic Controllers to create a unique automated Polar Express station stop scenario.
            The next time you are at an event that is even remotely train related, keep an eye out for our local Model Train Community ambassador and one of his portable layouts.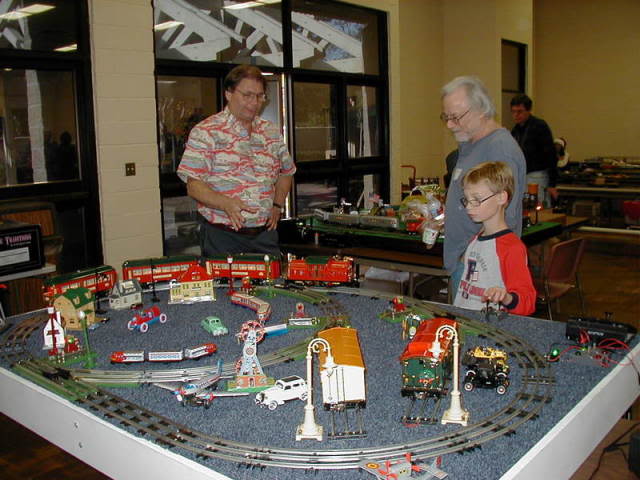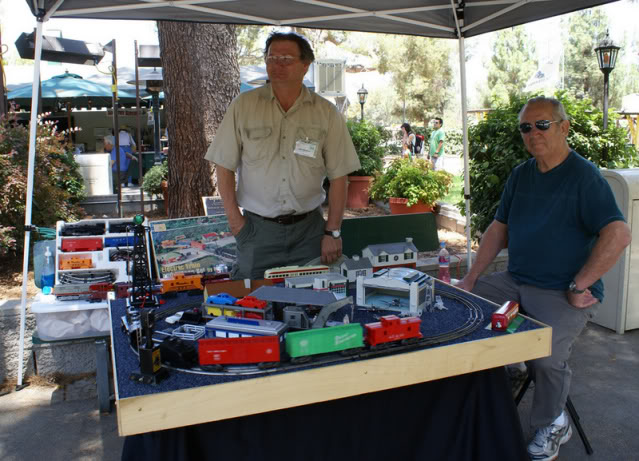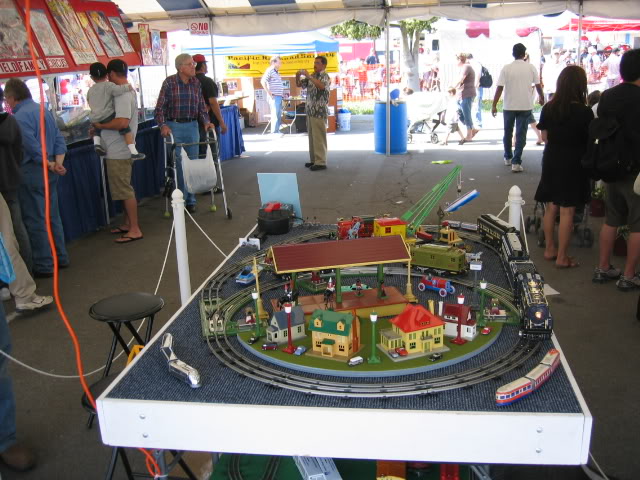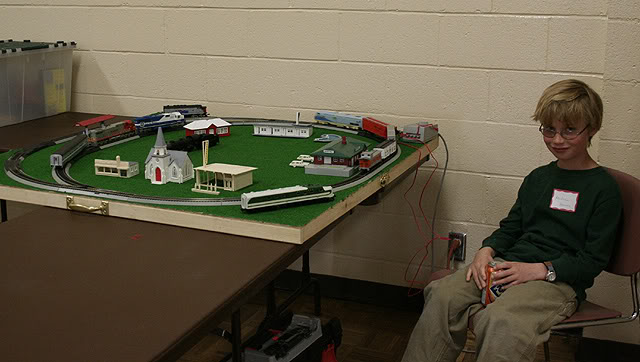 Even John's son, Andrew, has a portable layout of his own.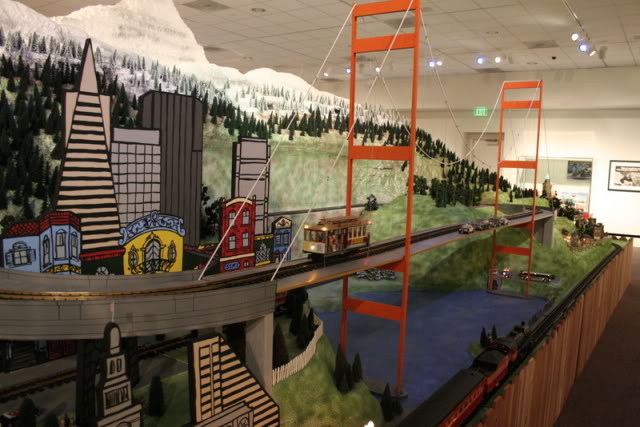 One of the displays at the Nixon Library that John was involved with building.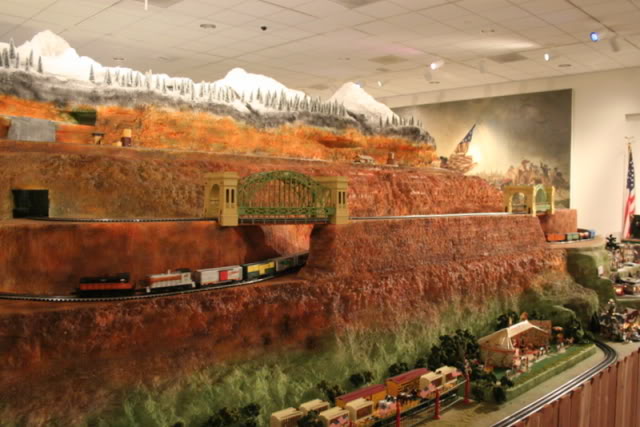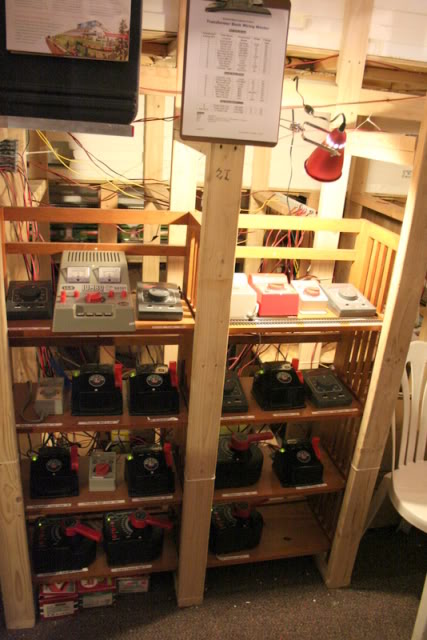 Some of the complex wiring and power distribution involved with the Nixon Library layouts.