Operator of the Month: November 2010
Les Cochran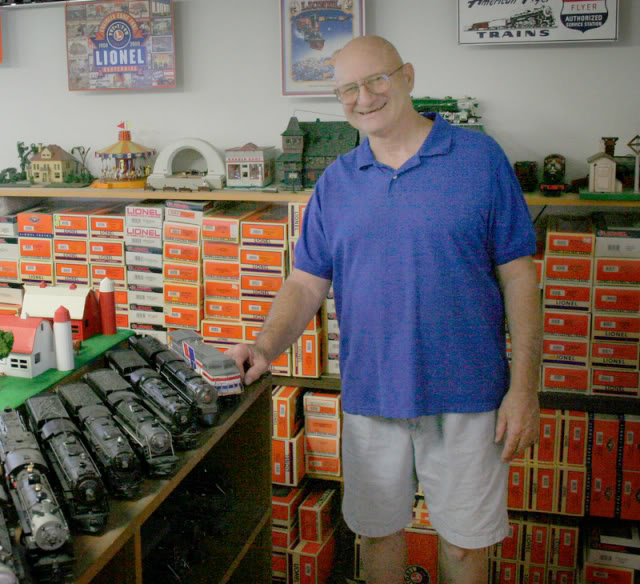 As you ascend the stairs to Les' train room, you already know you're in the right place. His office at the base of the stairs is piled with train books, magazines, and catalogs and the shelves above his desk contain his extensive collection of HO trains. The walls are filled with framed photographs of trains and other memorabilia. Reaching the top of the L shaped stair well affords the viewer a nearly full view of Les' layout and collection. A small portion of the collection is displayed on two long walls while the rest is either hidden under the layout or is organized in large piles around the room. His locomotives number in the hundreds and rolling stock in the thousands! The layout itself is fairly simple. It is about 8 x 16 feet and consists of two loops of 0-72 track. There are no switches or crossovers to disrupt the operation of his trains. The layout is divided into two halves by a river that is spanned by a pair of Hell Gate Bridges. One side is a residential area while the other side is commercial and industrial. There are numerous Lionel, MTH, and Plasticville buildings accompanied by cars, figures, and other details. The scenery is simple: a green carpet mat and a few trees and lichens. It is a perfect layout for someone who just wants to run trains.
     Les' story starts back in 1947 when he received his first train set, an American Flyer 3/16" O gauge set. It wasn't long before he built a 5 x 10 foot layout for his train. Over the years, he added some Marx trains and accessories to it as well as a Lionel engine. One of the neighbors had a Lionel 671 freight set that he let Les borrow for some time. When high school came, he got interested in HO trains and gave his O gauge stuff to his brother.
     In 1967, Les was reintroduced to O gauge trains when he bought a bunch of trains at a St. Vincent de Paul's. He got a Lionel 2026, a 602 Seaboard switcher, a bunch of rolling stock, track, and an American Flyer Frontiersman set all for $12! He built a new 5 x 10 layout after he and Nancy got married. This layout featured O, S, and HO gauge trains. The layout came with them when they moved into their current house in 1972. Up to this point, Les had just been playing around with his trains. One day in 1974, he wandered into Ed Warner's train shop and met Chuck Stone. It was here that he learned about MTA and the other train clubs. He came home that day with a couple of Lionel Geeps and joined MTA soon after. This was when Les started collecting, concentrating mainly on Lionel and some American Flyer. He joined TTOS in 1976 and became a member of the SP and Southwestern divisions. He also joined TCA. He bought a lot of his trains from train stores, club meets, and other stores that carried trains. He also likes to visit other train stores when on vacation. He bought his favorite train, the SP Daylight, in 1983; he sold an American Flyer standard gauge set in order to buy it.
     In 1986, the layout came down because Les and Nancy were having an addition added on to the house that included a new upstairs train room. Les mainly focused on collecting for about ten years but he would periodically set up his trains on the floor to run them. The current layout was built in 1996. In 1998, Les retired from his career working for Edison. Jerry Keys became the new manager at Arizona Trains that year and called Les to see if he wanted a job. Les worked for Arizona until 2008 and it was during this time that his collecting went into high gear. This becomes apparent when you see the plethora of Lionel and K-line trains from the last decade in his collection. Les loves to share his trains with his grandkids. When they were younger he would let them crawl on the layout and after they left, the buildings would be rearranged and there were many car wrecks. They still like to come over and play trains at Grandpa's.