Operator of the Month: July 2010
Royce Inglis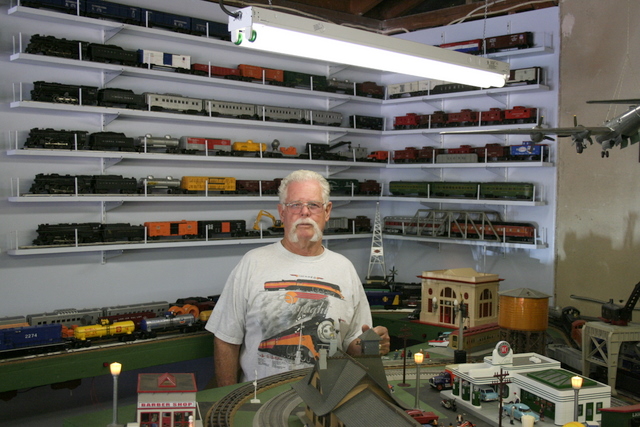 Royce's Postwar style garage layout was featured on SP's recent layout tour on June 12th. This is actually Royce's first train layout which he purchased from an individual who was getting out of the hobby. He happened to pick up a flyer with information about the layout at the Orange County Fair last year. He went to go see the layout and ended up taking it home in August. Royce had to make the ultimate sacrifice so he could have his train layout: he sold his Corvette to make room for it. He says he is much happier with the trains anyway. The layout just included the table and track so Royce would have to rewire it and add his own buildings and accessories. The layout features two mainlines: one with 0-27 curve and the other with 0-42, an oil field, an airport, a small town, an industrial park, and a small yard. The track is mounted on cork roadbed and has extra ties added for realism. Scenery is minimal consisting of a green painted plywood top and black painted roads. The layout can get quite noisy due to track directly on plywood but Royce enjoys the noise stating that's how toy trains should sound. There are numerous operating accessories scattered around the layout with the controllers mounted to the edge of the table so kids can operate them.
          Royce had a modest childhood and only had a Marx windup train set. He really wanted an electric train set but did not receive one until later in life. His mother in law gave him a second hand Lionel set in 1965. He began to collect trains and toys in the 1980s. He would buy HO, American Flyer S, and O gauge trains as well as die cast trucks, cars, planes, and military toys of all makes. He displayed/stored these in a back bedroom. One day at a garage sale he bought a Lionel ZW, a switcher, and a few other pieces which sealed his decision to focus on collecting Lionel so he sold off all his other trains and toys.
           Royce doesn't just play with toy trains, he also has a great deal of experience playing with 1:1 scale trains too. He was an engineer on the Disneyland Railroad for over six years, which he retired from two years ago due to health issues. Royce was probably the most popular engineer with the kids since during station stops he would hand out plastic toy trains to them. Regular Disneyland visitors would inquire if Royce was working so they could ride on his train. Royce's popularity with kids even led to a children's book inspired by him. The Secret Legend of Kalikimaka by Jeffrey Willmitts is a fictional story based on a Hawaiin sugar cane railroad and the main character is an engineer named Royce. Royce absolutely loved his job with Disney and would still be doing it if he could. One of the most surreal feelings he described was the fact that he got to run the same locomotive that Walt ran on the opening day of Disneyland which Royce was in attendance for.
           One of Royce's favorite aspects of TTOS is the social atmosphere. He looks forward to coming to the meets and visiting with friends. Royce met his good friend Wayne Gotthard in a Corvette club a few years ago and found that Wayne had an interest in trains as well so the two of them joined TTOS together. Wayne comes over regularly to run trains and just hang out. Royce has plans for the future to expand his 9 x 12 foot layout to take up the whole garage so he can run his larger locomotives and his Daylight set. He is also working on adding TMCC to his layout so he and Wayne can each run trains by remote. Royce loves to just hang out, share stories, and play trains so if you are like minded, say hi at the next meet.